MY 2005 JOURNEY TO BEIRUT, LEBANON:
journal entries, photos & reflections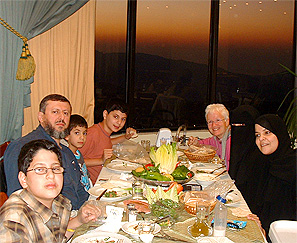 In April 2005 I accepted the gracious invitation of my dear friends, Rabih Haddad and Sulaima Al-Rushaid, to visit them and their five children in Beirut, Lebanon in the fall of 2005.
I'd first met Sulaima and the children in the Detroit INS (Immigration & Naturalization Service) court waiting room while their husband/father Rabih's appeal for bond was being heard by the judge. For the next 19 months, along with the family, members of the Ann Arbor Muslim Community Association and Detroit-area peace activists, I wrote letters (mine were to Rabih in jail, letters to the editors of newspapers, to Amnesty International and to U.S. Congresspersons on Rabih's behalf), participated in dozens of support vigils and protest demonstrations in front of the Immigration Court, the Monroe County Jail and the INS office building on Detroit's riverfront, and spent more hours at the Immigration Court itself than I'd care to count. All for naught.
Rabih Haddad, a well-respected Muslim cleric/teacher in Ann Arbor, Michigan, and a global humanitarian who had co-founded the Global Relief Foundation in 1992, remained in jail with no charges against him and no trial at which to defend himself from the government's unfounded accusations and innuendoes that his organization had terrorist ties.
On July 14, 2003--nineteen months to the day since his arrest in front of his children at their Ann Arbor apartment--Rabih Haddad was secretly deported to Lebanon. The official reason was a visa violation--that, by the way, had been the INS's fault from the beginning--but we all knew the U.S. Justice Department just wanted him out of their hair. They obviously had been able to find NO evidence of wrongdoing. Two weeks later, Sulaima and the children were deported to the country of her birth, Kuwait. Through much behind-the-scenes political manuvering, Rabih, Sulaima and their four children were finally reunited in Beirut, Lebanon on Monday, August 4, 2003.
They have spent the last two years rebuilding their lives, adjusting to Lebanon (they'd spent almost 14 years in the U.S.), and giving birth to a child of freedom--Ibrahim--who is the apple of everyone's eye.
It was into this family that I had been invited to stay for as long as I wished. Knowing it is said that houseguests and fish begin to smell after three days, I made plans to stay for ten days, hoping I wouldn't overstay my welcome.
One of the most amazing parts of my journey--which I was undertaking on my own even though I am a disabled woman who uses a scooter to get around--was the prospect of finally meeting this man I call my brother. Through letters while he was in jail and phone calls since he'd been in Lebanon, Rabih and I had become very close. But we'd never seen one another face-to-face. And now we would not only meet in person but have time to sit and talk, and actually live as the sister and brother we considered ourselves to be. Besides, I'd be reunited with Sulaima, 15 year-old Sana, 13 year-old Sami, 11 year-old Rami, 7 year-old Oussama, and 17 month-old Ibrahim (whom I'd be meeting for the first time), all of whom I loved dearly. A most exciting prospect.
If you'd like to read about my experiences as an advocate and supporter of Rabih Haddad during his imprisonment here in the U.S., you can go to my web page called "My brother Rabih Haddad." So now let's prepare to travel to Lebanon...



MONDAY, NOVEMBER 7, 2005
Well, my friends, it's time for me to say "So long"...for now anyway. Tomorrow I'm off on what promises to be the adventure of my life. A solitary journey from Detroit to London, an overnight stay in London, then on to Beirut, Lebanon where I'm scheduled to arrive at 9 PM (Lebanese Time) on Thursday, November 10. I'm visiting my dear friends--more like family--Rabih Haddad, Sulaima Al-Rushaid and their five children. I'll be staying with them until Monday, November 21, when I'll retrace my steps, including another overnight in London. I arrive home in Detroit at 4:30 PM EST on Tuesday, November 22.
I'm not going to belabor the point, but I hope this adventure I'm undertaking will encourage other folks who consider themselves challenged in any way to "reach for the moon." I truly believe we can do whatever we know is ours to do. For some it might be a journey, but for others it might be as simple as planting a garden, taking a class, joining an organization, or even venturing out of your home and going downtown. Don't let fear stop you from exploring this rich, wondrous world in which we live. Each moment is too precious.
I'm taking both my digital camera and my iBook so you can expect detailed journal entries and lots of photos when I return. As I've said before, if I find access to the internet, I'll try to post something while I'm there, but please don't count on it. I plan to go with the flow and let the Universe present me with experiences for which I wouldn't even know enough to ask. May I leave all my agendas behind and receive the gifts of each moment.
If you want to follow me interactively, you can go to the web site for the Lancaster Hall Hotel where I'll be staying for my two overnights in London. My dear friend Jeff Golden in California recommended it, and it seems like the perfect place to stay--wheelchair accessible and only four blocks from the Paddington Station where the Heathrow Express train will let me off from the airport. I'm even going to have the delightful opportunity to get together with Marianne Barlow, a wonderful woman I've gotten to know at several of the WoMaMu music camps I've attended in Northern California.
And then Lebanon! Every single solitary child and adult I've ever met who has visited, lived in or been born in that country they call the Switzerland of the Middle East, ADORES it. And I anticipate feeling exactly the same way. Imagine...sunsets over the Mediterranean Sea (that I will see from Rabih and Sulaima's apartment balcony), mountains less than an hour away, the extremely cosmopolitan city of Beirut, places of history so ancient I can't even imagine them, and, in my humble opinion, the best food on the planet. If you want to follow the weather I'll be encountering in Beirut, simply click here.
But I'd say, for me, the most heartwarming part of this trip is the opportunity to FINALLY meet the man I call my brother. If you recall, Rabih and I have only known one another through letters and phone calls. I never even saw him at the one immigration court hearing where they finally allowed him to be present. There were too few seats available and too many people who needed/wanted/deserved to be in that room, so I waited downstairs and offered what support I could to Rabih's brothers, Sulaima and the children. I do remember having a nice long talk that particular day with Sami, their eldest son who was then 10. That was when I discovered that he adores history and is a regular encyclopedia of information. This helped Ed and me choose what gift to bring him.
Speaking of gifts makes me think of my baggage. I'd intended to bring only one medium-sized bag, but when I'd packed my major gifts to the family and my clothes, I saw I'd need another bag. For what, you ask? Diapers and candy! That is all I have in my second suitcase. Granted, it's pretty small, but it's packed to the gills. When I'd asked the kids what they'd like from the U.S., American candy was the hands-down winner. In particular, Jolly Ranchers and Peanut M&Ms. With my trip coming after Halloween, I was able to buy large bags of these and other candies 50% off. So here I go, taking Halloween to Beirut!
Well, it's after 11 PM and it's time for me to go to bed. Soon I'm going to be in countries where my Eastern Time Zone inner clock will be turned upside down, so I'd do well to go to bed earlier rather than later. Fortunately, tomorrow's flight doesn't leave until 6:30 PM EST. But they want me there three hours early so they can deal with my scooter. And my dear sweet husband has offered to sit and wait with me at the airport until I have to go through security. How I love that man.
Take care and we'll be back in touch in a couple of weeks.



WEDNESDAY, NOVEMBER 9, 2005
High above the Atlantic Ocean on a British Airways 777 sometime in the early morning hours UK time...
Now I know what it's like to be rich. Well, maybe not so much rich as pampered. Of course, I know that already. My Eddie spoils me rotten. But this is different. This means having people at your beck and call, simply wanting to make everything easy, safe and comfortable for you. This was not what I'd expected, but that was what I meant when I wrote yesterday about allowing the Universe to gift me in whatever unexpectedly wonderful ways it wanted on this journey.
The magic began when Ed and I went to the British Airways desk to check in. We were feeling a little unsettled because I'd taken us to the wrong terminal. That's what comes of making assumptions. You're flying out of the country so you go to the International Terminal, right? Not necessarily. After parking in the short-term lot, and schlepping my stuff into the Berry Terminal we discovered that British Airways was in the McNamara Terminal not the Berry. Luckily we'd allowed plenty of time so it wasn't a big deal, just a little unsettling, as I said.
But if we'd gone directly to the McNamara Terminal in the first place, would Mary Wilson and Mariam have been there to ease our way? More than that...Mary Wilson, who is obviously a big honcho at British Airways, came out from behind the counter to compliment my scooter, my handknit Equadoran poncho, and finally my Michigan Womyn's Music Festival tie-dye socks. She then proceeded to change my life.
"Let's move you to Club Class. I can get you a seat right by the washroom." I didn't know what "Club Class" meant, but I certainly did know what being close to a washroom meant. Seating had been one of my concerns, especially in relation to being close to the WC.
Mariam, who processed my e-ticket and checked my bags, was most interested to hear I was going to Lebanon. Her parents were born there and, coincidentally, her nephews went to the school where I help out in East Dearborn.
I felt very well taken care of and I hadn't even gotten on the plane yet! And my sweetie stayed by my side until it was time for me to go through security and go to the gate. That was a great comfort.
We did have a little anxiety as we waited and waited for a wheelchair to come for me, but Chris finally showed up. And he too was a delight.
My next, most scary, moment came as I was undergoing the pat-down by a very nice woman in security. The fellow who had taken my backpack to examine it, came back with the bad news that I wasn't allowed to bring an electrical transformer--what I need to charge my scooter in London and Beirut--in my carry-on luggage. I'd seen nothing about this in all my research so was taken aback. And especially so when he said I'd have to go back to the British Airways desk and check my transformer. Not only did I have no box or bag in which to put it, but this would mean having to go through security all over again. Time was a definite consideration.
When I shared my concerns with him, this young man replied, "Wait here. Let me see what I can do." Within five minutes he was back with the extremely welcome news that I could go ahead. Whew! Thank you, Adnan.
Once we got to the gate, my chair-pusher Chris and I only had to wait ten minutes before it was time for me to pre-board. At the door to the plane I had the unhappy surprise of seeing a huge step I'd have to take to get onboard. No way could I manage it. But that didn't phase the flight attendants who greeted me at the door. They got the aisle chair--a small wheelchair that can be used in the narrow aisles of a plane--and lifted me up into the plane.
Well, the Universe was not done giving gifts this day. Roberto, the captain of the flight attendants, wheeled me into the galley and asked if I'd mind waiting a few minutes; he wanted to try to get me a better seat, one that was even closer to the washroom. And he did.
That's why I'm sitting in this particular seat right now, working at my laptop that Jill so graciously got down from the overhead compartment where my backpack was stored. This is after having had a delicious gourmet dinner with one of the best salads I've ever put in my mouth, and a parmesian pasta that was so rich I could only eat a little bit. If I were a drinker, I would have loved this Club Class because all drinks—including champagne—are complimentary. And they'll be serving a continental breakfast an hour an half before we land in London at 6:30 AM.
But food and drink aside, it's the attendants who make this journey so pleasant. I've never encountered such kind, considerate, helpful attendants in my life. They can't do enough to help me. Thank you Roberto, Jill, Mark and Jason.
OK, now I've got to tell you about this seat. Maybe you've seen something like it, but not I. It is shaped like an S lying on its side, so the two people who would normally be seated shoulder-to-shoulder, instead are beside one another, one looking forward and the other, back. And, at the touch of a button, the seats lower to become a flat bed. This is not to mention your own private TV with a choice of seven first-run movies, and audio channels playing whatever music you might enjoy. Like WOW!
As I said earlier, I don't know what time it is, but I'm beginning to think it's time for a little shut-eye. Everyone else in this class has been asleep for hours, and I tried but my legs kept twitching. So I stood up for awhile, and have now been writing this journal entry. But it's time. Sleep is calling.
I'll check in again when I can. So far so GREAT!
******************
Sitting at the table in my hotel room in London after a VERY full day...
It's only 8:15 PM London Time and my body says it's very very sleepy. But I'm going to try to stay awake another hour so I can go to bed more on London Time. Beirut is still two hours ahead of London but I know from experience (Detroit to San Francisco and back) that the best way to fight jet lag is to stay awake the first day/night and try to recalibrate your inner clock as soon as possible.
When I'd finished the journal entry on the plane, I discovered it was 5 AM London Time (midnight Detroit Time) and they were starting to serve breakfast, so I didn't try to sleep. That meant that when I got to my room here at the Lancaster Hall Hotel at 10:30 AM, I'd been awake for over 24 hours. But a two-hour nap refreshed me enough so I could set off to explore the city.
Before I share those adventures, I'd like to acknowledge Susie and Raj at Heathrow Airport, both of whom went the extra mile (kilometer?) to make going through the Passport Check, getting my scooter--which was fine!--and checked bags from the baggage area, storing those two bags at Heathrow until I return for tomorrow's flight, getting change for the big English pound bills my bank had given me, and getting me safely settled on the Heathrow Express Train to Paddington Station, easy, pleasant and anxiety-free.
My, but I'm encountering wonderful people on this journey! Even at the mammoth, terribly-busy Paddington Station this morning at the height of rush hour. I had stopped in the middle of everything to find my hotel confirmation which was buried deep in my purse. A woman came up and asked if I needed any help; she didn't work there, she was just a commuter like most of the others. I asked if she knew where Praed Street was. She said "No, but I'll go find out for you." Before I could say "Please don't bother", she was off. In a few minutes she returned with a woman station attendant in tow. Then my unknown helper disappeared before I could properly thank her.
This sense of being taken care of continued when I arrived here at the hotel (a German-run YMCA) called the Lancaster Hall Hotel. Hamid at the desk not only let me have a free continental breakfast, but managed to have my room ready in fifteen minutes. What other hotel can you imagine letting you check in at 10:30 AM? He also came upstairs to help me open the door--I'm terrible at turning keys--and stayed to set up my laptop and the transformer so I could charge my scooter while I napped.
Anyone who worried about my being in a foreign country on my own had best put their worries to rest. No one could be better cared for than I. Thank you everyone.
Now for the story of my post-nap scooter ride.
I'd seen on the map online that my hotel was not far from Hyde Park and Kensington Park. As it turned out, I am only three blocks from the entrance to Hyde Park. What a lovely large piece of land! It has trees, still-green grass, ponds, statues and fountains. I met two men and a little girl who spoke not English but the language of love and generosity. They shared a piece of bread with me so I could feed the swans as the men were doing. Yipes! Those birds are huge and quite aggressive when they think you've got food for them.
After that adventure I kept scooting west and "happened" on Kensington Palace. There are formal gardens--which I scooted through--and it's possible to pay to look inside the palace where Princess Margaret lived until her death in 2002, and the State Apartments where Princess Diana had lived as well. But the ticket-taker told me it wouldn't be worth my while as there are many stairs with no lift, and only a few of the downstairs' rooms are open as they're preparing to mount a huge exhibition devoted to Princess Diana.
As I scooted through one of the gardens on my way to exiting the palace grounds, a woman who was walking near me remarked on how sad the rooms upstairs had looked, the rooms where Princess Margaret had lived her life. Well, we were soon engaged in such an interesting conversation that I suggested we find a place to have a cup of tea.
Talk about kindred souls! Bett and I could have sat at that pub--the only place we could find that didn't have at least one step up into the entrance--sipping our cuppas and talking about our lives, views, adventures, feelings, beliefs, world events, family, etc. until who-knows-when if I hadn't needed to get back to my hotel for my supper date with Marianne Barlow, my WoMaMu buddy from California.
And you think I'm adventuresome! Bett left her home near Melbourne, Australia--a B&B she and her husband ran until his death five years ago--six weeks ago, with one overnight bag, a few tour reservations around various parts of Europe and the UK, and the willingness to just let things happen. And, of course, they have. She had wonderful stories to tell, and was a great listener as well. She especially wanted to hear my opinions about what is going on with George W. Bush with whom, she's ashamed to say, her Aussie Prime Minister is "in bed." Our views about religion, politics and life in general could not have been more similar...and we're four months apart in age!
After that lovely encounter, I came back to the hotel for yet another. Marianne, whom I have loved since I first met her at least seven years ago, is an amazing woman. A gifted singer/songwriter, she sang and played (on her guitar) her latest songs with me here in my room after we'd shared a "take-away" East Indian dinner. She teaches grade one here in London which, believe it or not, is composed of 30 youngsters who had turned 5 in August or before. I can't imagine! Our time together was rich but short as Marianne had to get to a singing group by 8 PM.
Well, I've done it! It's now 9:20 PM and I can go to bed. Tomorrow is going to be quite a day, the day I will first see my brother Rabih and again be with my beloved Sana, Sami and Rami. Of course I can't forget little Ibrahim.
By the way, I had a wonderful phone conversation with my Eddie this morning. We sounded like we were next door. Let's hear it for World Roam cell phones!



THURSDAY, NOVEMBER 10, 2005
Maybe 2:30 PM London Time, waiting for the BMED (British Mediterranean) plane to take off from London to Beirut...
I DO NOT LIKE BEING AT THE MERCY OF OTHER PEOPLE!!!!
Here I'd gotten to the airport (Heathrow) 3 hours ahead of time so there'd be no snafus. And all went well at the start. Yvonne, my wheelchair pusher, was a wonderful helper as I retrieved my bags from "Left Luggage" where I'd stowed them overnight, checked in and left my scooter and bags at the BMED counter, got through security with little hassle, bought an egg salad sandwich and a bottle of apple juice at a cafe, took me to a wheelchair-accessible WC (water closet or toilet to us Americans), and got me set up in what they call the "Serenity Lounge" where unassisted children and any soliary travelers who need special assistance are supposed to wait.
And it was serene, that is until I heard the woman in charge say to me in passing, "And yes, you're on your way to Copenhagen, aren't you." "No," I said with a sense of panic, "I'm going to Beirut!" Flustered, she just said, "Oh, someone must have written your name in the wrong slot."
It was then that I began to wonder just how "serene" this lounge really was. Yvonne had assured me they would take care of everything--they had my boarding pass, would get a wheelchair in plenty of time to get me to the gate; I could just sit back and relax. At least that's what Yvonne had said. But if they'd thought I was going to Copenhagen instead of Beirut? Hmmmm...
So I'm having an excellent discussion about the horrors of the Iraq War and the Bush administration with an English-born woman who has lived in Wellesley, MA for decades, when I had a call of nature. Oh yes, I'd just asked her what time it was and she'd answered, "1:30 PM." My plane was to leave at 2:15 PM. My new friend said, "Oh, they'll be picking you up soon now."
As I was being wheeled to the WC, I heard over the PA that my flight to Beirut was starting to board. What happened after that, I don't even want to write about. The excuse, repeated ad infinitum, that "We're at the mercy of the wheelchair people. Don't worry, we'll get you on your flight." did little to comfort me, especially when I saw 3 empty wheelchairs wheeled away while I waited. The woman in charge just kept saying, "We have to wait for the chair assigned to you."
When I'm on my own, I get to the gate at least an hour before departure. I despise feeling rushed. Besides, wheelchair travelers are supposed to pre-board. So here I am, listening to the second PA announcement about my flight to Beirut, this one informing all passengers to report to the gate for the final boarding. I'm so frustrated I almost cry. But instead I just keep hammering at the woman in charge, begging her to bend the rules, to do whatever she can to get me to my gate. She just keeps assuring me everything's going to be all right. Talk about a living nightmare!
By the time the wheelchair pusher assigned to me finally appears, I'm in such a state I can't even answer his inane attempts to make conversation. I had to say, "I'm sorry but I'm too upset to talk." I see a clock on the way to the gate. It's 1:56 PM, less than 20 minutes to take off.
When we finally get there, the person taking the boarding passes smiles and says, "Here she is!"
From then on everything went smoothly. The flight attendants were kind and helpful, which I appreciated because I was going to need special help getting to the WC during the flight. Since my seat was five rows away from the WC, I'd have to ask them to push me there in the aisle chair (a small wheeled chair narrow enough to get through the aisles) every time I'd have a call of nature. And knowing me, that would surely be more than once.
But I was still so upset by all that had transpired that I was having trouble getting in the peaceful frame of mind I'd hoped to be in as I prepared to see my dear friends in Beirut. That's why I'm writing this--to get it out so I can leave it behind.
Begone anxiety and upsetness. Come in peace and calm. Breathe in, breathe out. All shall be well. All is as it is to be. Life is good. And I am on my way to Rabih, Sulaima, Sana, Sami, Rami, Oussama and Ibrahim. Yes, I am blessed.



FRIDAY, NOVEMBER 11, 2005
7:20 AM
I was too excited to sleep. But I'm glad because it meant I heard the call to dawn prayers wafting on the breeze. A man's voice singing over a loudspeaker. Hauntingly beautiful. Rabih had said last night he'd definitely be going this morning because he needed to get his shoes back. Someone had taken his by mistake at dawn prayers yesterday. If he did go, he certainly was quiet. I didn't hear a thing even though I think I was awake.
It was very emotional seeing Rabih and Sulaima at the airport last night. And quite touching to hear Sulaima say as she hugged me, "I'm hugging you for Rabih too." I'd wondered about that, but Rabih and I had never talked about it. Apparently he was reluctant to mention it ahead of time for fear it might put a damper on our meeting. But I understood. As Rabih explained when we were having a late dinner last night, Muslim men can only touch their wives and female members of their immediate family.
He looks as I'd expected, only more distinguished. I was surpised to see him dressed in a windbreaker and jeans. When Ann Mullen had come to Beirut to interview Rabih for an article in the Detroit Metro Times, all her photos had shown him in his white Muslim robe. Actually that's what he changed into as soon as we got home from the airport.
I was greeted at the door by a hand-colored banner that said, "Welcome Aunt Patricia." I certainly did feel welcome...especially when 15 year-old Sana and 11 year-old Rami opened the door and greeted me with big hugs and kisses. Even 17 month-old Ibrahim was there, grinning and running around. Their child of freedom. Sami, 13, and Oussama, 7 1/2, had tried to stay up--I got in at 10:30 PM--but didn't quite make it.
Actually I'd expected the boys to be up by now--it's 8 AM--but I'm the only one stirring. I think I'll go back to bed now for a little more shut-eye.



SATURDAY, NOVEMBER 12, 2005
On Rabih and Sulaima's balcony in the morning...
The sounds and sight of a plane--white with blue accents--rising to the south in front of me. Traffic sounds on the highway below. The blue sea stretching from side-to-side just beyond the highway. A car alarm going off nearby. Rippling calm water with the horizon only a few shades lighter. Knowing this very highway would take me into Palestine in two hours time. Colorful laundry strung on clotheslines on the top of the highrise apartment building next door. Ivory-colored apartment buildings as far as the eye can see, what Rabih calls a "concrete jungle." All with balconies, but some balconies filled with plants and chairs, clotheslines and children's toys...others completely curtained for privacy. The white light here, warm sun on my bare arm. The gift of these Indian Summer days and mild nights. The abandoned Syrian army bunker between the two highways. The Beirut skyline peeking from between two apartment buildings to my right. First Sulaima and then Sana coming to the open sliding-glass door onto the balcony and asking if I would like juice or if I need anything. Seventeen-month-old Ibrahim ("Braheem" for short) toddling out to say "Hi", fresh and clean from his bath. Feeling fresh and clean myself after a most welcome shower. Braheem coming outside holding in two hands a tin can with his beloved popcorn in it. Holding out some popcorns to me and putting them gently in my mouth...twice. Then smiling as I make up and sing a popcorn song to him. He turns and drops the can on the white marble balcony floor and kneels down to try to pick up his spilled treasure. Mommy comes out to the rescue with her broom and after sweeping it up, they go back inside. But I can still hear his happy voice from inside the open door. Feeling so at home. Knowing I truly am with family. Loving each of these wonderfully unique individuals for who they are, needing no more in life than to be where and who I am at this moment. Being overcome by gratitude.


MONDAY, NOVEMBER 14, 2005
On the sunny warm balcony overlooking the placid blue Mediterranean...
Will I ever believe that I, Patricia Lay-Dorsey, am really here in Lebanon? Not simply in Lebanon either, but staying with a family who has welcomed me as one of their own. What I'm experiencing is so different from visiting Beirut--or any country--as a tourist.
The noon call to prayer (Adhan) has begun. A rich deep voice chants over a loudspeaker from the nearby mosque, transforming even the traffic sounds into something sacred. Five times a day starting before dawn (around 4:30 AM) and ending about 6:30 PM at night, you hear this hauntingly beautiful sound wherever you go in Lebanon. And the people stop whatever they're doing and either go to the mosque as Rabih usually does, or pray where they are as does Sulaima. The three eldest boys sometimes accompany Rabih and other times stay home and pray with their mother. Since they go to an Islamic school, I'm sure they pray there. Believe me, I am seeing from the inside that being a follower of the Prophet Mohammed is a total commitment. It makes me feel the practice of Christianity, even the evangelical arm of the religion with its Wednesday night prayer meetings and all-day Sunday services, seem mild in comparison. This is as strenuous and time-consuming as being a monk or a cloistered nun...more so because you're also expected to make a living, raise children, go to school, and attend to the needs of your extended family and community at the same time. Religion is truly the fabric of your life. Yet I have not heard a word of religious proselytizing from any member of the family. They accept me as I am, a non-religious person who has found her own spiritual path.
We had a wonderful weekend with lots of laid-back family time and a special excursion each day.
After the boys got home from school on Saturday--their Islamic school takes Fridays off because that is the most holy day of the week.
--Mirvette, Sulaima's American friend, just came by for a brief visit. What a gift that Sulaima met Sandy who then introduced her to her circle of American women friends. They all understand the special challenges women face when they move from America to Lebanon. Life in each country is quite different.--
To continue my narrative...
Sana goes to an American high school that has Saturday and Sunday off, and Rabih goes to his office (about three blocks away) every day except Sunday. That is the only day that everyone is home, so it is their family day.
But getting back to Saturday, Sana, who is 15 going on 16, had a date with a school friend who lives in Beirut. Since we are 15 minutes south of the city via expressway, her father needed to drive her there. I was invited along so I could see the city. Sulaima and 17 month-old Ibrahim came too. To make it less onerous for Rabih, I used my walker instead of my scooter. That also gave me some exercise going from the apartment, down the elevator and to the car. It was good to get back on my feet again. Of course I took my camera.
What an adventure! I'd been forewarned about the crazy drivers in Beirut, but on the expressway going into town they didn't seem any crazier than Detroit drivers on our expressways--fast, aggressively changing lanes, obviously trying to get where they were going as quickly as possible. But once we got into the bowels of the city, in the actual neighborhoods where people live, then I saw what they'd meant!
First of all, the streets were so narrow that barely one car could fit. And then there were so many people on the sidewalks, not to mention the cars that were parked ON not beside the sidewalks, that people had to walk in the streets. LOTS of people. Everything in this city of one million people is built UP, so seeing the sun, at least in this part of town, is next to impossible, which made visibility quite iffy. Beirut drivers use their horns like we use turn signals. It's a special form of communication. Of course when you're driving down incredibly narrow streets with hairpin turns, no traffic lights, few stop signs and pedestrians walking in the street, I guess your horn is a form of self- and other-preservation. As I say, this was quite an adventure...but an adventure Rabih not only took in stride but seemed to relish. I now see why Sulaima and Sana are not interested in driving in Lebanon.
We parked--up on the sidewalk like everyone else--on a narrow (they ALL were) street and, thanks to the ever-present cell phone, Rabih was able to tell Sana's friend that we were downstairs. Within minutes, Sana saw her at the corner, opened our car door very carefully, promised to be careful and took off into the crowd. We then made our way back to the main street and headed north toward downtown Beirut. Rabih wanted to take me on a tour of the city.
Words are hard to come by to describe all I saw and felt as Rabih negotiated traffic jams, rude drivers and unexpected barricades. Hopefully my photos will give you some sense of it all.
We passed by the modern United Nations building and the metal barricades and check-point prohibiting traffic from driving near it that have been in place since the Prime Minisiter Rafiq al-Hariri's assassination on February 14, 2005. Farther along we actually passed by the place where he is buried and the St. Georges Hotel where the suicide bomber blew up and killed the Prime Minister and nineteen of his aides and security guards on that tragic day. Much of the rubble is still uncleared and the yellow crime tape still surrounds the site. After I took my photograph, Rabih sped up saying, "The police didn't like that. They started rushing towards our car; I'm sure they got our license plate number." That didn't make me very comfortable but it didn't seem to bother Rabih at all. I guess after what he lived through in the United States, nothing about the police phases him anymore.
In the middle of downtown--which is elegant and cosmopolitan with broad boulevards--we saw a stage being put up and wondered what was going on. The sidewalks were also lined with metal barricades. Sulaima figured it out. The next day was the Beirut marathon and the city was preparing for it.
As I'd been told by many people back in the States, Beirut has the strange juxtaposition of beautiful buildings--old and new--and buildings riddled with bullet holes and bombed-out sections. Reminders of this country's 17 year-long civil war. I gather before the war, Beirut was known as the "Paris of the Middle East." To my eyes, it is still lovely.
Churches and mosques are everywhere, evidence of Lebanon's long history of religious tolerance and diversity. Some mosques are huge and others--like this 600 year old mosque--remain almost hidden. One mosque I found particularly attractive ended up being where Rabih stopped to pray after we'd heard the sunset call to prayer. While parked, I was able to take some photos I particularly like.
After prayer, we continued our tour, now following the shore of the Mediterranean Sea where people were strolling beside the sandy beach. We went by blocks and blocks and blocks of the American University on our left, the new lighthouse (that I couldn't photograph because the flash was reflecting in the front window), and the ferris wheel at Luna Park, a favorite of the Lebanese children I know from school. As we turned the bend in the road, the buildings and neighborhoods got more and more sumptuous, Soon we were in the true "high rent" district of Beirut. There were elegant apartment houses, fancy hotels--like the Sheraton where I could see American-looking folks standing outside--restaurants, shoppes, and all the things wealthy people seem to favor. This was when I felt so deeply grateful that I wasn't a tourist in Beirut. If this was all I saw of the city, I would have no idea who really lived here and what their lives were like. Such a privileged position I have here, and how grateful I am to Rabih, Sulaima and the kids for allowing me to enter their lives so intimately. How did I ever become so fortunate?
The sun had just set over the sea and to our right the sky was a rich orange hue. We passed by the beach called White Sands where people love to swim. I bet this was the beach the kids at school were telling me about. Directly across from us--here the land was carved into a half-moon shape--we could see the glistening lights of the city, and farther south were the brighter yellow lights framing the runways at Beirut International Airport, just minutes from where we live. I felt like a princess in a fairy tale.
After I'd returned home and we'd had another in a never-ending parade of delicious meals, I started working with the 80 photos I'd taken on our tour; at my side was Rami, their 11 year-old son. He really got into it, and became quite proficient at knowing the process I was using. In fact, Rami quickly became my resizing expert. He had an eye for exactly what percentage to make my photos, even after I'd cropped them. After we'd been working on this for at least an hour, he turned to me with an impish grin and said, "I'm getting addicted to this!"
The 2:20 PM call to prayer is just sounding--
When Sana had returned from her visit--Rabih and Sulaima went to pick her up--she joined me here beside my laptop and told me all about it. She and I have had wonderful opportunities for heart-to-hearts. Actually I've been able to have marvelous one-to-one conversations with each member of the family--non-verbal ones with little Ibrahim--in the three days and nights I've been here so far.
When I write that, it surprises me. Have I really only been here for three days and nights? My goodness, it feels more like a month. So much has happened and we've made such deep connections. This dear family makes me feel like one of them. In fact, I was greeted on Friday night by a hand-colored banner on the front door saying, "Welcome, Aunt Patricia!"
I've got to stop for now. I've been writing for hours and the kids will soon be home from school. By the way, it must now be close to 80 degrees F. I'm sitting at my laptop in front of an open sliding-glass door in my sunny bedroom. There is a lovely breeze and it feels like summer in Michigan. Yes, Indian Summer comes to Beirut too! How fortunate I am to be here now.



TUESDAY, NOVEMBER 15, 2005
Another sunny day, but for the first time there are some clouds. Maybe we'll soon see the rain that has been predicted. It doesn't bother me; I want to see Lebanon in all its faces. And I'd especially love to see the Mediterranean Sea show me how it can whip up waves. So far all I've seen is its placid face.
So where was I? Oh yes, I was going to tell you about Sunday's drive into the mountains, Mount Lebanon to be exact.
Rabih's grandfather started the first iron metal factory in the Middle East back at the turn of the last century. When he'd accumulated some money he began to buy land. Then he started buying and selling this land. Apparently he was gifted in this way. One of the places where he especially liked to buy land was up on Mount Lebanon, to the east of Beirut. There was a town he was particularly fond of called Hammana. In that town he built three houses--more like villas--that are still in the family. Rabih's father inherited one of them after his father died, and now this villa has come to Rabih, his two brothers and his mother since Rabih's father's death two years ago. Rabih, Sulaima and the children spend their summers there. On Sunday we drove up there--5000 feet above sea level--to check on how the house had fared after a weekend of storms before I'd arrived, and so I could see this place that is so dear to everyone in the family.
You know, I'm out on the balcony with my laptop operating on battery-power. In the 15-20 minutes I've been sitting here, the temperature has dropped and now the sun is obscured by clouds. It's still comfortable but I am going to go get my neck scarf and a cotton jacket. I've also just heard the fruit man's voice over his loudspeaker as his brightly-painted open-backed truck passed on the street under our building. But, just to let you know that Lebanon is not all that different from the States, before he'd passed by, I'd heard the "thump-thump-thump" of a CD rising out of an SUV. And as I look over at the expressway going into Beirut, I see the traffic slowed and a crowd of people standing next to three vehicles that obviously just had an accident. Yes, life is not all that different here. And now the sun has returned and its warmer again.
Hammana is only a 45-minute drive from Rabih and Sulaima's apartment, and we started going UP almost immediately. The drive was magnificent with views of mountains and valleys and the charming old villages we passed through on our way. But even up here was evidence of the war that had consumed this country during the 1970s and 80s. You'd see buildings with bullet holes or even sections that were completely bombed out. But for the most part, it was simply lovely.
When we reached Hammana, we first drove by Sulaima's father's villa. It was there that Rabih and Sulaima first met in the summer of 1979, he a 19 year-old young man who was on his way to Nebraska where he wanted to go to university (and his family wanted him safely out of a country at war), and she a 14 year-old daughter of a Kuwaiti ambassador who had lived in India, Pakistan, Jordan, Lebanon and Zaire.
There is now a great sadness about this house. A top general in the Syrian army took over Sulaima's father's home and turned it into his headquarters up on Mount Lebanon. Not only did he and his men destroy much of the beauty of the building through their crude ways of living, but they also turned at least two of the bedrooms--one of them Sulaima's--into torture chambers. After the Syrian army left Lebanon in May 2005 after a 27 year-occupation, the Lebanese government restored this house to Sulaima's father. Sulaima described the tears of her and her family when they came to see the villa they had all loved. Her father has put it up for sale because it has been ruined for him and his family.
Rabih's father's villa is just blocks from Sulaima's. On our way there we passed two other homes that Rabih said are Haddad houses. They now belong to his uncles and cousins, and all exist because of his grandfather's wise decisions to purchase land in Hammana.
I was deeply moved to see my brother's beloved home. It was here that Rabih went to begin to heal from his terrible time in U.S. jails. It was this villa that he prepared for his wife and children as he awaited their being together again after more than 19 months apart. It was the garden in which I sat that had been his father's pride and joy, Rabih's dear father who had died while my brother was being held without charges, without bail in the Monroe County Jail in Michigan. One of his father's roses was still in bloom although the rose season was long past up at this high altitude. I felt it was his father greeting me with love.
The children, Sulaima and Rabih obviously adore this place...and I can see why. Although there were too many stairs for me to be able to go inside, I'd seen enough family videos of it, and Sulaima took enough pictures with my camera for me to feel I was there. But it was his father's garden that I'd most wanted to experience, the garden that his wife--Rabih's mother--told me yesterday that her husband had worked in from 5-11 AM every morning and then from 3-5 PM every afternoon...and they'd even had a gardener to help! I felt the garden was the heart of the house.
After maybe an hour and a lot of photos--even a family portrait that I like but Sami doesn't because he's too faded out by the sun--we continued our drive up the mountain. We passed a hill of cedars on which Rabih said was raised the Lebanese flag for the first time. I tried to take a picture of the flagpole with that beautiful flag flying but, alas, there was no wind so it was hanging limp against the pole. We saw terraced farm and orchard lands, and finally drove above the timber-line onto a pasture that was brown. Up here was more land that still belonged to the Haddad family.
It is now 11:25 AM and I'm hearing the call to prayer.
Up on this barren-looking land we also saw the largest bottled water plant in the Middle East. I have a bottle of Sohat water here at my side and it is delicious. Up on Mount Lebanon flow many underground natural springs. In fact, people come from Beirut--we saw several of them--to fill up large containers of water at the water stations that are seen on the side of many roads up there. We stopped and filled our large water bottle just so I could taste it. Talk about cold...and good!
We also saw the gibbous--Sami told us what it was called--moon rising over one of the sand-colored hills. Rabih took this photo and it is one of my favorites of the day. And our adventure wasn't done yet. Rabih wanted me to see the "breadbasket of Lebanon," the valley that runs between the two mountain ranges that run north and south in this country. On the other side of the far range is Syria. But first we had to make our way through a checkpoint. My first ever! Even though the Lebanese soldiers just waved us on without stopping us, I must admit it kind of freaked me out, especially since I'd forgotten to bring my passport. Rabih said with a sardonic smile that it was good I'd brought my wallet--which I had--because that can be more valuable in cases like this than a passport!
By now it was time to think about food and we decided to go to a restaurant--Valley View--in Hammana that Rabih and Sulaima love. The children were delighted because they'd never been there. Well, so was I when I saw this absolutely gorgeous restaurant overlooking Hammana with the sun almost ready to set over the nearest mountain. Wow! And talk about good food! This place did things with traditional Lebanese food that you could not imagine. Oh my gosh, forgive me if my mouth waters as I write. I am getting SO spoiled here!
On our drive back down the mountain we experienced a magical family milestone--little Ibrahim said his first word, at least the first word we could understand. And guess what it was...PIZZA! We were saying "Pizza, pizza, pizza" to him in a singsong voice and he mimicked us perfectly. Then he said, "Baba" (Daddy) and I thought Rabih was going to go off the road. What a treat to share such a moment with this family who now feel like my own.
Well, friends, I'm tired of writing...and a little hungry. Time to go raid the refrigerator.


THURSDAY, NOVEMBER 17, 2005
In a couple of hours it will have been one week since I arrived in Lebanon. So much has happened that it feels more like a year. And when I write that I'm not just referring to activities and sights, but to inner changes--seismic shifts--that have transformed me in ways I'm only beginning to see. For as wondrous as it is to be in a country that is so different from my own, with its unusual tastes, sounds, smells, sights and physical experiences, what is touching me most deeply is the privilege of living day-to-day as a beloved member of Rabih and Sulaima's family. Nothing could have prepared me for this. And when I go home, nothing can prepare me for how much I will miss them, each one in his and her own way.
These past two days have been full of surprises. The first came yesterday morning when Sulaima awakened me to ask if I would write a biographical blurb and a title for a presentation Rabih has arranged for me to give on Saturday afternoon at The Muntada, a center for dialogue between Christians and Muslims near the American University of Beirut downtown. We'd talked about this possibility a few days ago, but to be honest, I'd doubted it would happen, mainly because there was so little time to arrange it. But Rabih is a close friend of the director and after telling him about me and what I'd done for Rabih during his imprisonment in the States, the director said he thought it would be valuable for people to hear what I have to say. Although their schedule was quite full, he said he'd do his best to work me in. And he did.
I'm calling my presentation, "Not In My Name: An American Anti-War Activist Speaks." I sat right down and wrote it as soon as Sulaima told me it would be happening. I've now read my first draft out loud to Rabih and Sulaima, 15 year-old Sana, 13 year-old Sami and 11 year-old Rami. They all liked it very much; Sami, Rami and Sana's responses were especially gratifying. "Wow! Whew! That's amazing!", said Rami. "Awesome!", said Sami, "Did you really write that yourself?!!". Sana said, "You said JUST what the people in Lebanon need to hear!" These kids sure know how to make their Aunt Patricia feel good. To me, the most interesting part of the whole event will be the opportunity for dialogue that is being built into the program. I can't wait to hear people's comments and questions.
But Saturday isn't the only opportunity I'm encountering to enter into dialogue about world events with the people of Lebanon.
Last night, after a very successful shopping spree on Beirut's Hamra Street (Rabih's old "hood"), we went to visit his grandfather, uncle, mother and aunt. At 95 years old, Abdullah Kobersi may have lost his sight and most of his hearing, but this lawyer, poet, philosopher, author still has a sharp mind, quick wit and global consciousness. He speaks Arabic, Spanish, French and English fluently and has visited and lived all over the world. He said if he were to move to the United States, he'd want to live in Boston. I think he was there as recently as 1993.
Then today Sulaima invited her women friends to come meet me. All of them have lived at least part of their lives in the United States and she felt they'd be interested in hearing my perspective on what is happening there during the Bush era. What an interesting diiscussion we had! Not only have these women lived in America but they are true citizens of the world. One is originally from Nicaragua and another from Greece. Two of the women brought their 18-19 year-old daughters. All these women are interested in and informed about world events. Sulaima says they were surprised to meet an American who is so critical of her government. Of course we already knew they were seeing nothing about people like me on CNN, the only American news station they get here. At every opportunity I'm trying to let people know that there is strong active resistance to George W. Bush and his policies in the United States. This feels like an important part of what I can bring to Lebanon during my time here.


SATURDAY, NOVEMBER 19, 2005
This is the speech I gave today at The Muntada, a center for dialogue between Muslims and Christians located near the American University of Beirut:
NOT IN MY NAME:
An American Anti-War Activist Speaks
by Patricia Lay-Dorsey
Assalamu Alaikum.
I come as one woman who hopes to speak for millions of Americans whose voices are not being heard in America or worldwide.
We are those who say "Not In Our Name" when the president of our country, George W. Bush, makes war on countries like Afghanistan and Iraq, takes the oil and other natural resources that rightfully belong to other countries, captures and tortures prisoners--many of them innocent--in his so-called War On Terror, unjustly detains Moslem men of Arab descent in U.S. jails with no charges and no recourse to due process of law...yet continues to say he is "making the world safe for democracy."
We say if what you stand for is democracy, Mr. Bush, then we want no part of it.
We say that you, George W. Bush, do NOT speak for us.
We say your imperialistic and aggressive actions, attitudes and words do not reflect what we believe America can and should be.
We say by our words, actions and attitudes that peace is possible, and it can only come when America takes its proper place as an equal among equals in the world community.
As long as George W. Bush, and people like Dick Cheney, Donald Rumsfeld, Karl Rove and Condoleezza Rice continue to act as if America is the "boss of the world," we will fight them--nonviolently--with every breath we take.
We are not giving up or giving in to their destructive decisions. We are not going to sit back and let them ruin our nation and the world. We are strong, we are angry and our numbers are growing every day.
Yes, we know there are Americans who support George W. Bush, and his government. Americans who believe his lies and propaganda. Americans who unwisely voted him back into office in 2004.
But we also know that many of them now regret that vote, now see that the war against and occupation of Iraq is a disaster. A disaster that is killing not only our young people--over 2000 of whom have now died in this war--but hundreds of thousands of Iraqi innocents. These former supporters of Bush's war now say, Bring Our Troops Home Now!
I personally met some of these people on September 24th on the streets of our nation's capitol when over half a million people--young and old, black and white, Christian, Jewish and Muslim--came together for a huge march and rally organized by a coalition of national peace groups. It was called "End the War On Iraq!" I have never before felt such power and commitment in a gathering like this. And it was my seventh such march on Washington, DC over the past decade.
Something has shifted in America. It is as if the sleeping majority has awakened and they don't like what they see. Recent polls show that less than 37% of the American people believe Bush is leading our country in the right direction, by far the lowest approval rating for any U. S. president in history. He is losing his grip. Finally.
But we still have three more years of George W. Bush in the White House. Three more years of fighting for justice, for freedom, for accountability, for peace.
And I want you to know we WILL be fighting. We are not giving up. Even if the media never shows you our faces or reports on our words and actions, please know we are there, working together, forming coalitions, traveling to places like Palestine to offer our solidarity to oppressed peoples, coming up with creative solutions to what can seem like unsolvable problems.
And we are not just working for justice and peace; we are working for the life and health of our planet. We are trying to develop sustainable ways of living that do not damage the land, water, air and species that share this, our home.
We are in solidarity with you, our neighbors in Lebanon, as you try to find the truth behind tragedies like the assassination of your beloved Prime Minister Rafiq al-Hariri. As you try to find new ways to be in respectful relationships with your neighbors to the north and to the south. As you do all you can to help peace come to the Middle East.
We are together in these struggles. We are one people, no matter what our nationality, our religion, our language. We are one because we share the same home--Earth--and because we all want the same things: to live in peace, dignity and freedom. We want our children and our children's children to have all they need, to share what they have, and to live together in peace.
May it be so.

****************************
Approximately 60-70 predominantly Muslim men and women attended, even though there had only been three days advance notice. They were respectful and attentive throughout our two hours together.
During the question and answer period, everyone expressed surprise and gratitude that there are people in the United States who feel the way I do about George W. Bush and, especially about his war on and occupation of Iraq. What follows are some of their questions:
1) What is your goal, your motivation? What would you like to see the world become?
2) What tangible steps are you in the peace movement taking to change things?
3) How do Americans in general feel about 9/11?
4) You're calling for the removal of George W. Bush but what if a worse president comes around?
5) How do you see the future in Iraq?
6) You said that you were working to overthrow the system but what if an "ideal" president was elected? What then?
7) The U.S. is spending millions to improve their image in the Middle East, with propaganda-loaded radio stations and newspapers. What is your advice to us in the face of that?
8) You criticize the capitalistic system. Is this the general mood in the U.S.? What system would you prefer?


MONDAY, NOVEMBER 21, 2005
Beirut-Rafiq al-Hariri International Airport, Gate 5, about 8:30 AM...
I wait beside a Kuwaiti woman named Anna. She is dressed in black with two gold crucifixes and one gold metal on a chain around her neck. Her grey hair is slicked tightly back in a bun. Her face with its rivers of wrinkles, is beautiful but her eyes are sad. She has wept twice so far, dabbing her eyes with a white tissue. She speaks only Arabic but has managed to tell me that two of her sons have been killed by gunshot.
When I looked on her with sympathy as she wept the first time, she pointed to her black coat and, even thought most of the women I've met in Lebanon wear black, I understood that she was in mourning. I simply laid my hand on her sleeve and she knew I understood. Then she rummaged in her well-worn black handbag and pulled out a plastic billfold container of small photographs. She showed me two pictures, each of handsome young man with dark hair and mustache perhaps in his 20s. She pointed to each picture and raised her hand to her head, cocked her thumb like it was a gun and fired. All I could do was shake my head and say I was so sorry.
This dear woman stayed beside me--even though there were lots of empty seats around us--until it was time for us to board our BMED (British Mediterranean) flight to London. I felt she did so just in case I needed any help.
This airport in Beirut is the only one that has allowed me to drive my scooter right to the door of the aircraft. All the others have made me check Ona at baggage and be transferred to an airport wheelchair, which as I know from past experience, has its challenges. It changes everything for me to be allowed to be responsible for myself and to retain my independence.
**********************
It's now 5:33 PM London time and I'm sitting in my hotel room waiting for Marianne to come for a short visit.
The journey from Beirut to London went fine, a few minor snafus but nothing serious. OK, so they disconnected my scooter batteries wrong in Beirut and stored one of them in my scooter basket. It was so heavy that it broke one of my two basket holders. Putting everything back together again at the Heathrow baggage area took the help of three people, but, hey, my scooter is running now and that's all that matters.
Traveling a quarter of the way around the world like this helps you keep things in perspective. Nothing goes exactly according to plan--sometimes better, other times worse--but if you arrive safely with your baggage intact, and for me, my scooter still running properly, you're satisfied. So far so good. Just one more leg of the journey to go--London to Detroit tomorrow.
I just called my family in Beirut and was saddened to hear that everyone except Rabih and Sana is sick! Oussama was the first to come down with something on Saturday. He felt hot to Sulaima's touch, but went with us anyway to my presentation at The Mutada in Beirut. Later he seemed to be feeling better. Then Sami and Rami started getting sick last night but we thought their symptoms--puffy eyes and trouble breathing--was due to allergic reactions to the Siamese kitten a friend of Sulaima's had brought over for a "trial period." This morning, Sami, Rami and Oussama felt bad enough that Sulaima kept them home from school. By then their heads were stuffed up like they had bad colds. On the way to the airport, Sulaima got so nauseous she looked like she might throw up. After she and Rabih got back home after seeing me off, 17 month-old Ibrahim woke up feeling hot as an oven. He started vomiting but didn't know what was happening and began to run around the living room upchucking everyplace before they could catch him. I don't know if it's merely a sympathetic reaction but I'm beginning to have a scratchy throat myself. Hey, I told you I'm part of the family!
And what a family. Imagine if you will, 13 and 11 year-old boys hugging, kissing and telling a woman who isn't even (biologically) related to them, that they love her. Frequently. And a 15 year-old girl sharing her innermost self in conversations that go in amazing directions. When all the kids would get home from school, I'd get as many hugs and kisses as their mum.
Speaking of kisses, I LOVE the way people from the Gulf countries kiss--three kisses, each on alternating cheeks. I'm bringing this back to Michigan.
And now Marianne has come and gone, and I'm feeling as though I want to go to bed. So I am. Time zones be hanged. It's 9:15 PM Beirut time, 7:15 PM London time, and 2:15 PM Detroit time. Is my inner clock going to be confused or what!
Tomorrow I see my sweetie. Yippee!!!


TUESDAY, NOVEMBER 22, 2005
2 PM or thereabouts, on a British Airways plane waiting for them to remove my scooter from the hold...
This day couldn't have gone better, I was saying to myself as we taxied to the runway. I hadn't had to go to the so-called Serenity Lounge at Heathrow Airport, the place where I'd experienced the worse half hour of my entire trip--story yet to be told--on my way from London to Beirut on Thursday, November 10. I'd even been able to personally supervise the baggage handlers as they disconnected my scooter's batteries and prepared her for the flight. And to top it all off, I'd been there to see and advise the security folks as they lifted Ona onto the oversized x-ray machine for her security check. Lucia, the security chief, had developed such a relationship with my special friend that she accompanied Ona (my scooter) down to the aircraft hold herself.
Another bright spot had been the delightful wheelchair-pusher who was assigned to me. I'd waited at the British Airways check-in counter for 40 minutes for her to appear, but she was worth the wait. Besides, I figured every minute I spent at that counter was one more minute I wouldn't have to spend in the Serenity Lounge. That was a definite plus.
I can't remember the name of my wheelchair-pusher--it started with a "J"--but I do recall what she told me about her life.
She was born in Afghanistan and she and her family had escaped their country during the war against the Soviets. She was only 3 when they fled. She'd grown up in Germany and her family still lives there. Last summer she'd visited Afghanistan for the first time since they'd left. She said it was a beautiful land with all the mountains covered in wildflowers. If it weren't for the war, it would be perfect. I apologized--as I've done so many times on this trip--for what my country has done to her country. I also told her about the large and active peace movement we have here in the U.S. Everywhere I go, people are surprised and gratified to hear this. I tell everyone I meet.
It is now about 3 PM London Time and we are finally in the air. We were scheduled for a 12:45 PM departure. So what happened you ask? We were delayed by my scooter Ona, Security Threat #1!
We were on schedule and had already taxied to the runway where we were waiting for take-off. That's when the captain's voice came over the PA announcing that he'd just received word that we'd been instructed to turn around and return to the landing dock. He had not been informed why but as soon as he heard anything, he'd let us know.
I was in the WC when the announcement came through that we were returning for security reasons--there was an electric wheelchair on board that had not been properly gone over by security. I knew it must be mine. And it was.
For the next hour and a half I was visited by a flight attendant four times and the captain once. I told them about my having seen my scooter being x-rayed over an hour before we'd taken off. I even gave them the name of the woman who had supervised the x-ray, and the name of the security area where she worked. After havng relayed this information to the authorities inside the airport, the flight attendant came back to report that the x-ray hadn't been enough--there was more they should have done to make sure my wheelchair was secure.
Next came word that my scooter was to be removed and would not be traveling with us on this plane. It would be sent on to Detroit tomorrow. Did I want to stay with my scooter overnight in London, or continue on this flight and get my scooter a day late? I didn't even have to consider my answer. I want to go home today. Ona can follow tomorrow if need be.
In between all these visits, I was calling Ed on my cell phone to let him know what was happening. And the captain--who had come personally to apologize to me for the snafu--kept giving updates over the PA. One of the final ones explained that this was taking so long because the wheelchair was in a remote hold that was hard to reach.
At 2:45 PM came the announcement that we would be taking off in 5-10 minutes. At the same time the flight attendant came to tell me that my wheelchair had been returned to the aircraft and would arrive with me today in Detroit. I made my final call to Ed to tell him not to bother bringing my Sassy scooter with him to pick me up, as we'd previously arranged.
So, you may ask yourself, why did all this happen? I've taken my scooter onboard a good number of planes since September 11th, and never before has she been seen as such a potential threat to security.
Another flight attendant gave me a possible answer. We were chatting during the delay and I happened to mention that I'd been in Lebanon. "You mean you just came from Beirut?", she asked. "Well, yes, but I spent last night in London." "That doesn't matter," she said, "if you were coming from Beirut; THAT was the problem!"
I wrote the above while onboard my London to Detroit flight. After we'd landed two hours late in Detroit and I was waiting an exceptionally long time for my scooter to show up in baggage, one of the obviously-higher-up British Airways workers there said she'd heard the problem was that there'd been a shift change at Security in Heathrow and the paperwork had not been completed properly. My question is, if I'd come from someplace besides the Middle East, would this have caused such a big to-do?

Sitting at my laptop upstairs in my home...
It's now 9:10 PM Detroit time and I'm home!!!! Of course that's 2:10 AM London time (where I was last night) and 4:10 AM Beirut time (where I've spent the last ten days). My body says, "Put me to bed...NOW!" and I plan to comply.


WEDNESDAY, NOVEMBER 23, 2005
1:30 PM
Being part of a family means different things to different people. To me right now it means getting the same cold/flu bug the boys and Sulaima came down with on Monday. It means sleeping for 15 hours last night and waking up with a stuffy head, hoarse voice and feeling weak as a kitten. But it also means being grateful my symptoms didn't show up until after I'd gotten back home.
And it means my photos and journal entres from Lebanon will be going online at a slower pace than I'd expected. But show up they will. That is certain.



FRIDAY, NOVEMBER 25, 2005
What made my journey unique was not the geographical distances I traveled to get there, but the depths of intimacy I experienced once I'd arrived. It is one thing to view a country, its culture and peoples as a tourist, and quite another to live day-to-day as they live. To see things from the inside out rather than from the outside in. That was the gift Rabih, Sulaima, Sana, Sami, Rami, Oussama and Ibrahim gave when they welcomed me into their home and hearts as a member of the family. And it is this gift that will continue to unwrap itself in my consciousness as time goes on.
So what is day-to-day life like for my family-of-choice?
Since Sami, Rami and Oussama's Islamic school takes Friday and Sunday off, and Sana's American school takes Saturday and Sunday off, Sunday is the only day of the week when everyone can be together; it is the day for family outings. The two Sundays I was there we planned excursions: first to Rabih's family home in the mountains where my family spends their summer vacations, and secondly to Beirut to see some famous attractions.
The first Sunday's journey was blessed with perfect weather, sunny and warm, but the second Sunday we encountered the only cool rainy day of my trip, so we stayed warm and cozy at home. It was just as well. That gave me more time to hang out with the kids, see to my packing--that Sulaima graciously did for me--visit with two of Sulaima's friends who stopped by to see me, and continue to help Rabih put up his new blog, "Enduring Mercy." Besides, that was the day the children started to feel poorly. And it was my last day. We needed to get me to the airport--which, fortunately, was only fifteen minutes away--at 7:30 AM Monday morning.
I was going to share with you a typical day, but as I started to write it down, I realized that would violate the trust the family gave me. I must respect their privacy. Instead of going into great detail, I'm going to note just a few interesting facets of life in Lebanon.
Electricity is not a given as it is here in the U.S. Where we lived in Armoun, a community of highrise apartments about 15 minutes south of Beirut, the electricity would go off for about an hour--sometimes more, sometimes less--every day. After about 30 seconds of darkness--if it was the night--the building's generator would kick in. You could tell we were on the generator because the lights would occasionally flicker and they would not shine as brightly as usual. But it didn't seem to stop anything.
Not only is electricity iffy in Lebanon; it is expensive. For this reason no one except perhaps the very wealthy in Beirut, has a garbage disposal, clothes drier or electric dishwasher. Our apartment building and most of those around us--and there were hundreds--had balconies. Some balconies were screened with canvas curtains for privacy, and others--like ours--were open, but ALL of them had clothes lines with wash hanging outside almost every day. Clothes could also be seen drying on clothes lines on the flat roofs of a number of apartment buildings near us.
But don't think Lebanon is a third world country; it's not. The people I got to know have several TVs, DVD players, desktop computers, laptops, palm pilots (or whatever the latest gadget is called), digital cameras and cell phones. Their children play with Game Boys and save their money to buy more. Their teens want iPods. And even if the girls are scarved, they are fashion-conscious and dress like any teenager when they get together with their girlfriends.
Because Muslim society is generally gender-separated, the women get together with women and the men with men, even when visiting in the same home. This means that scarved women can literally let down their hair if they want, and the men can talk about whatever interests them. Don't we often see this played out informally in our American culture, where the guys will gather around the TV watching football and the gals will sit and talk in the living room or the kitchen?
In our home the main meal of the day--called lunch--was at 3 PM, about a half hour after the children had returned home from school. It was always served on the dining room table. While I was there, Rabih sometimes came home to join us, but I gather that is not his norm. Usually he and Sulaima eat together after Rabih returns home after sunset prayers. Later in the evening, we'd often raid the refrigerator and sit in the kitchen talking and laughing. This family, by the way, does a lot of laughing! They truly LOVE being together.
Weekday evenings were spent doing homework. The kids, especially those attending the Islamic school, had A LOT of homework...even Oussama who's only in the second grade. Sulaima, a former teacher in the States, would spend between 1-2 hours a night sitting with Oussama at the dining room table helping him with his homework. We all thought it was too much for a seven year-old.
These children are hard workers and very bright. They all brought home excellent quiz scores while I was there. Rami said it was BECAUSE I was there. When I asked why he said that, he replied, "We see you always working on your writing on the computer, and it makes us want to work hard too." Eleven year-old Rami, a truly original thinker, asked me one day, "If you cloned yourself, would you be able to get along with your clone?" I had to admit I didn't think so because I'm so opinionated! This young man comes up with some of the most unusal questions I've ever heard. I encouraged him to consider becoming an international investigative reporter like Robert Fisk.
Of all the details of day-to-day life I was privileged to observe, I'd have to say the place of religion impacted me most greatly. In this home of faithful Muslim believers, religion is not something they DO, but who they ARE. Prayer is not a Sunday (or Saturday or Friday) kind of thing, it is woven into the fabric of their lives. They don't talk about it, they simply do it. Five times a day, day in and day out. Rabih usually prays at the mosque--sometimes in the company of the boys--but Sulaima, who is home with 17 month-old Ibrahim, prays in the formal part of the living room. If the children are home, they might join her or not. As far as I can tell, no one is forced to pray. But they all do it as if they were born to it, even seven year-old Oussama.
As integral as religion is to this family, they never made me feel "other" or strange because I wasn't Muslim...wasn't ANY religion actually. The only time I felt someone was trying to convert me was at The Muntada in Beirut where I spoke last Saturday about the U.S. peace movement.
One of their organizers is a young man of 25 who'd converted to Islam five years ago. As is often true of converts, he is so enthusiastic about his new-found religion that he has trouble knowing when to hold back and when to come on strong. But I wasn't offended by his prosleytizing; I remembered doing just the same myself after I'd undergone a religious conversion in the mid-80s. It comes with the territory.
Of all the gifts I received during my ten days with this family, the most precious were the countless opportunities to spend time one-on-one with each individual.
Sulaima's and my heart-to-heart conversations sitting at the kitchen table while the kids were at school. Her warmth and welcome. Her always being there to help when I needed it...especially the first night when I had to wake her at 2 AM because I was falling out of bed. Her ingenious plan to put pillows under the outside edge of the mattress so that wouldn't happen again. The poise and beauty that shone from the depths of her being. Her humor and sense of play that was shared by all the family.
Rabih's and my deep conversation out on the balcony the night after I'd arrived, in his home office one evening later in the visit, and our time together putting up his blog my last few days there. His gentleness and strength, forged during those long months in solitary confinement. The deep bond that led us to call one another brother and sister.
Their shared dedication to being good parents, and their willingness to listen to any observations I offered about their children and how they seemed to be getting along. Their treating me like a beloved auntie.
Fifteen year-old Sana's readiness to share her innermost thoughts and feelings with me while we sat beside my laptop in my bedroom. Her unquestioned helpfulness in taking care of her younger brothers. Her authenticity and good heart.
Eleven year-old Rami--who chose to spend the most time with me of anyone--sitting beside me at my laptop and learning how to edit my photos using Adobe ImageReady CS2, listening TWICE to my speech before I gave it at The Muntada, asking me one probing question after another, and always being loving and respectful of who I am and how I live my life.
Thirteen year-old Sami's gentle spirit permeating the apartment, his sweet smile and loving kisses when he'd return home from school. His interest in and quick learning of the same photo-editing techniques that Rami learned. His willingness to do that work for me.
Seven year-old Oussama's conversations in which he expressed himself more fluidly than usual and seemed to appreciate my listening ear. His immediate acceptance of my apology for being too hard on him one night.The way he would suddenly throw his arms around me and give me three kisses on alternating cheeks, Lebanese style.
And, of course, the sheer delight of being around 17 month-old Ibrahim who would sometimes come up and tuck his little head on my lap and let me pet his soft wavy hair and whisper endearments, something his family said he NEVER did with anyone else. His way of making everything new and exciting.
Can't you see why I love this family so dearly? And why, when they begged me to return and stay longer next time, I said I'd do my best. Hey, Beirut isn't all that far away. Now I know how small the world really is.


SUNDAY, NOVEMBER 27, 2005
My Lebanese bug was a real terror. Only today am I beginning to feel human. But the box of tissues has to be right here beside me. I'm like a dripping faucet.
Every time I get sick--even with a cold--I wonder if I'll ever get my strength back. But I do. And I'm sure I will this time too.
At least today I finally unpacked. That was a good sign. I'm beginning to feel like I'm really home again. Sweet.


MONDAY, NOVEMBER 28, 2005
I've been interested in the comments and questions that have come from my readers since I returned from my world travels, some by email and others posted in the "Comments" section of my blog.
Several readers have wanted to know how I responded to the questions that were asked by audience members after I'd given my speech at The Muntada in Beirut on Saturday, November 19. May I please hold off on answering that question until later? I want to give it the attention it deserves, and, to be honest, I'm just not yet feeling at the top of my form. Re-entry, especially with the addition of a flu bug, is not easy. I'm not all here yet.
I also see some dismay among readers--especially women--that 15 year-old Sana has chosen to wear the khimar, the black covering that only allows her eyes to show. She and I did talk about this subject, but I consider her answers confidential. Another area of concern is the gender-separated social code among Muslims.
Friends, as a guest of a Muslim family, my place was to accept their choices regarding such things, and to respect their right to make them. If I had questions, I asked them, but only to try to better understand why my friends did things as they did. These were asked as a friend not a critic. And I tried simply to listen to the answers instead of coming back with my take on things. I was a guest of these gracious people, and being a guest carries with it certain responsibilities. Especially a guest in a country that is not your own, among people who follow a religion that is not your own...both of which you know little about.
Sometimes it is best to enter into life as it is, not as you're used to it being. This, to me, is the crucial difference between a tourist and a guest. A tourist remains who she or he always was, whether at home or elsewhere. A guest makes an effort to enter into someone else's life in such a way that they are both comfortable. You don't give up being who you are at core, but you might bend the edges of your identity a bit so as not to stick out like a sore thumb. It's simply a matter of respect.
So, yes, I'm a feminist who believes with all my heart in the equality of women. Yes, I've chosen to make my own way spiritually, with no religion to mark my path. But I also consider myself a citizen of the world, not just of my country-of-birth. I believe we are all sisters and brothers, members of one family, who will learn to live in peace only when we give up our insistence that we're right about everything, that our way is the only way, that others need to change and become more like us. How boring that would be!
I revel in our diversity, but to do that authentically, I must step back from my natural tendency to judge everyone according to my standards. There's room for ALL of us here on this glorious planet, and each of us is an essential part of the whole.
By the way, I spoke often and honestly about my country, its president and his disastous choices. Cultural and religious subjects may have been handled with kid gloves, but NOT politics, war, Bush, etc. I considered it my responsibility to bring my perspective--and the perspective of millions of Americans like me--to the people of the Middle East. Rabih and Sulaima not only agreed with me on this, but set up numerous opportunities for these discussions to take place. Oh yes, we are definitely on the same page here!


TUESDAY, NOVEMBER 29, 2005
Here are my PowerPoint slide shows to date. Even if you don't have PowerPoint on your computer, you can download free PowerPoint Viewer software online. For PC users, click HERE to do so; for Mac users, click HERE.
1) Our drive into and through Beirut on Saturday, November 12. We start in Aramoun, a suburb of highrise apartments 5 minutes south of the airport and 20 minutes south of Beirut. This is where Rabih and Sulaima's 7th floor apartment is located. In these 60 slides you'll be taken into crowded East Beirut where we dropped Sana off to visit a friend. Then back onto the main highway, past the huge UN Building with its entrance that has been barricaded since Prime Minister Rafiq al-Hariri's assassination on February 14, 2005, beside churches and mosques large and small--one mosque 600 years old--through traffic jams on the Ring, beside sparkling new buildings and others still bullet-ridden and shell-damaged from Lebanon's 1975-90 civil war, beside the old St. Georges Hotel where crime-scene yellow tape and rubble is still visible from the car bomb that assassinated Prime Minister Hariri, past people walking along the beach boardwalk near the new lighthouse (that went by too fast for me to photograph), past the famous Luna Park ferris wheel, and ending as night falls over the Mediterranean Sea looking south.
2) Our Sunday (November 13th) drive from Aramoun up Mount Lebanon to Hammana where Rabih's family has had a home for decades. Rabih, Sulaima and the children spend their summers there, and it is where Rabih and Sulaima first met when he was 19 and she 14. Sulaima's family also had a home in Hammana. These 55 slides take you up curving roads, through mountain villages, past magnificent overlooks of Beirut and, farther up the mountain, of valleys and hills within the range. We finish this show at Rabih's family home where Sana is carrying Ibrahim up the steep stairs.
3) "Hammana home" takes up where "Aramoun to Hammana" left off. In these 28 slides, we are at Rabih's family's home in Hammana on Mount Lebanon. There are views both inside and out, and a few photos of the family. Sulaima took the inside shots and I took those from the outside. Since there were about 12 steep steps up to the front door, I stayed outside in Rabih's father's beloved garden. Oh yes, the children--Sana, Sami, Rami and Oussama--took many of the more artistic photos in the garden.
4) "Hammana and beyond" is the final slide show of this series of photos I took on our beautiful Sunday drive up Mount Lebanon on November 13. These 40 slides take us from Hammana, up past the timber line on Mount Lebanon, over to the Beirut-Damascus highway where we had to pass through a Lebanese military checkpoint--we were waved through without having to show our papers--to an overlook where we saw the valley that is known as "Lebanon's breadbasket" and the mountain range beyond which is Syria, then back down the mountain to Hammana where we had a sumptuous dinner at the Valley View restaurant.
5) "Sunset over the Mediterrannean." is 9 slides showing the most stunning of the many sunsets I watched from Rabih and Sulaima's balcony during the ten days I was there.


FRIDAY, DECEMBER 2, 2005
Yesterday was my first day back at school since my trip, and Susan and the kids welcomed me home as if I'd been away for years. Susan even let me present my PowerPoint slide shows to the three 4th grade classes and the one 5th grade class who had Thursday art classes. The kids--even our most rambunctious--were attentive, engaged and full of interesting questions and comments.
A large percentage of our children are of Lebanese descent. Many spend their summers there. And, in each class there were at least 6-7 who had been born in Lebanon. Some had only recently come to the U.S. So when I spoke of crazy drivers in Beirut, Prime Minister al-Hariri's assassination, the 1975-90 civil war, the beauty of Mount Lebanon, and the rigors of Islamic schools, they knew more about it than I. A few children shared harrowing tales of dangers and injuries their fathers had survived during the civil war.
For me it was like being back in Lebanon. And it helped me see why I'd felt so comfortable in Rabih and Sulaima's home. This school where I've been privileged to volunteer for five years, is truly a world community. Each child has taught me something here. And not just about their religious and cultural heritage either; these children have taught me that the world is a large, fascinating place that deserves to be explored.
I now doubt if I would have considered taking this journey were it not for the example of these young citizens of the world. Their courage and resilience in the face of life-changing decisions made for them by their parents is what inspired me to push my way out of the American-centered box into which I'd been born. How grateful to them I am.



SUNDAY, DECEMBER 4, 2005
Re-entry is hard. Especially after such an amazing journey, one I'd been anticipating and preparing for since last April. I find myself reluctant to enter too completely into my life here in Michigan. If I do, I'm afraid I'll lose touch with all that I experienced during those magical ten days with Rabih, Sulaima and the kids. Even now, after 12 days home, I sometimes feel I'm more there than here. Now I know what my family in Lebanon is doing at different times of the day, and even though we're seven hours apart, it's easy to place myself in their time zone, in their world. It's a world and a family I miss very much.
Of course it's sweet to be with my Eddie again. I value every minute we're together. Being so far away from my dear one helped me appreciate him all the more. And I love being in my home, in my own bed...all of that. But I still miss my life in Lebanon. And my family there.
I'm more fortunate than most, though, because I can visit Lebanon any time I want. I just drive 20 minutes west on I94, exit onto Addison Road, turn left on Ford Road...and there I am, in East Dearborn, Michigan, the Middle East of the Midwest.
My friend Pat Kolon and I did just that yesterday evening. We ate a yummy Lebanese dinner at the PineLand restaurant on Michigan Avenue just west of Schaeffer. Our server, Miyah, was born in Beirut and got tears in her eyes when I talked of having just been there two weeks ago. She, like everyone I've ever met, adores Beirut and longs to visit there as soon as possible. Maybe in January, she hopes.
After dinner, we drove a mile over to Fordson High School where the Palestine Office-Michigan was putting on a fundraiser featuring El-Funoun, Palestine's popular dance troupe. We'd been advised to get there an hour early and it's a good thing we did. Even though it was an 1100-seat auditorium, they'd oversold and there must have been 100 people standing! I'd worn the Palestinian-embroidered dress Sulaima's sister had given me, and I was right in style. A good number of women were wearing Palestinian dresses and even more men and women had the kuffiyeh, the Palestinian black-and-white scarf, draped over their shoulders. I got lots of compliments on my dress and was able to say where I'd gotten it. That led to a number of interesting conversations. I felt so at home there; it was like being back in Lebanon.


**************************

I took hundreds of photos on my trip. In addition to more PowerPoint slide shows, I intend to add photo links to the text of these journal entries. This will take time so I invite you to check back every so often to see how I'm proceeding with my task. If you don't want to wait, you might enjoy checking out the November archive on my blog. Some photos are already posted there. I will also be adding more written reflections and stories about my journey as they occur to me.



©2005 Patricia Lay-Dorsey. Please use with attribution.

---
Windchime Walker's blog
Windchime Walker's journal
Windchime Walker's home page